The awarded photographs of the project
The photographs of the project Who's That Nude in the Living Room have had the honor of receiving many awards, year after year. Below is the list of awards received by Idan Wizen. In total, more than 50 awards, including 5 First Prizes.
Skip to content
Awards
The list of awards and distinctions that Idan Wizen's artworks received
Collection Awarded
Hinders
In today's society, we often find ourselves chained by different problems such as social networks, over-consumption, work, unhealthy relationships. Emancipation and self-fulfillment are therefore key elements needed in the pursuit of happiness. To achieve this, however, we must face many obstacles, challenges, and hinders. The objective of the new ongoing Hinders collection is to show how much humanity is blinded by everyday issues not realizing those chains around.
With these photographs, the artist wants not only to analyze our society but also to give a solution. The intention is to approach this question by taking the side of the liberation of oneself by resolving one's inner fears through a work of reflection and introspection. In his works, Idan Wizen tries to describe, in a subtle and oniric way, an ode to free will, individual decision, and the ability of each person to break his chains.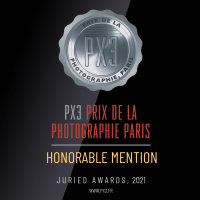 Photographies awarded individually
Filter by collection :